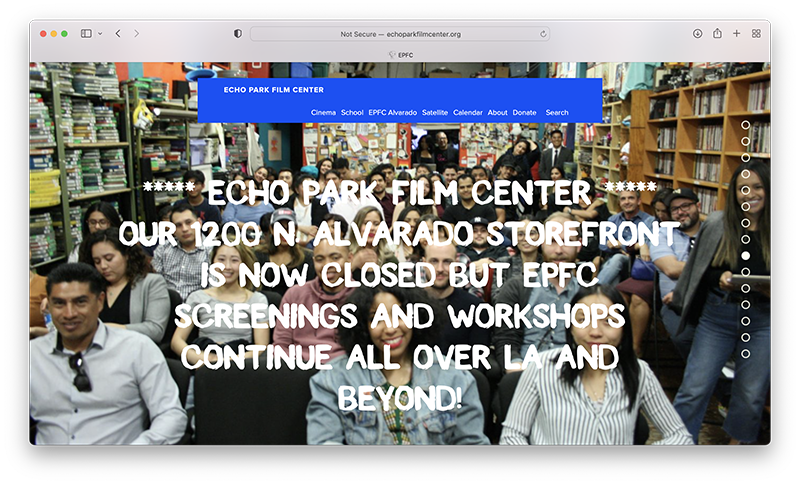 "What was old has been destroyed. Images of things that aren't there anymore mean a lot to those of us who live in Los Angeles, and practically nothing to everyone else."
Los Angeles Play Itself, Dir. Thom Andersen (2003)
While Covid-19 can assume ownership over many cultural upheavals, it can only stake partial claim on the many developments that were already underway in the world of cinema prior to 2020. See, for example, the worldwide proliferation of online screening and virtual cinema platforms over the past two years, or, more tellingly, the seemingly abrupt termination of Film Comment magazine's print edition in the early days of the pandemic, which in reality was in the cards long before lockdowns and social distancing.
In Los Angeles, our already precarious arthouse infrastructure has undergone a drastic transformation over this same time; as Covid restrictions lift and we begin to return to relative normality, it's clear we're entering a far different theatrical landscape than the one we left. By my count, no less than seven cinemas and film-related exhibition spaces have shut down, ceased regular programming, or been demolished since the beginning of 2020, including the Leo S. Bing Theater at LACMA, the Landmark on Pico, the Downtown Independent, the Ahrya Fine Arts in Beverly Hills, Laemmle's Playhouse 7 in Pasadena, the Echo Park Film Center, and the Spielberg Theatre at the Egyptian Hollywood (itself closed for renovations in preparation for a 2023 relaunch by Netflix1 ). Very different circumstances led to each of these closures, and while not all Covid-related, they are in toto symptomatic of a shrinking and increasingly self-selecting cinephile market that the pandemic has only further exposed.
My personal investment in these particular theaters is two-fold. First, as a cinephile, they were frequent destinations; some of my most cherished moviegoing memories are of afternoons and evenings spent at the Bing, taking in their Tuesday Matinee screenings and large-scale retrospectives, and of Sunday nights at the Spielberg, where Los Angeles Filmforum presented their regular program of classic and contemporary experimental cinema for nearly two decades. Second, as founder of the Acropolis Cinema screening series, all of these venues, save for the Landmark, played host to at least one of our events. Some, like the Downtown Independent and Echo Park Film Center, functioned at various points like de facto home bases. If you attended an Acropolis screening in its first three years of operation, it was likely at one of these two spaces. In addition to many of our monthly screenings, the Downtown Independent was site of three of the first four editions of Acropolis's annual festival Locarno in Los Angeles, while the Film Center was a frequent destination for the kinds of outré titles that would be difficult for a small nonprofit like ours to justify bringing to a larger space. A few times we underestimated interest: in April 2019, a screening of the Chinese film Suburban Birds introduced by critic and festival programmer Mark Peranson found us in a rare position of having to turn away a number of disappointed patrons at the door.
Acropolis screened at the other four venues on only a handful of occasions, but as such these instances stand out. I'm proud that Locarno in Los Angeles 2019's opening night 35mm screening of Leo McCarey's The Awful Truth was one of the last film events ever held at the Bing, particularly as it was where I discovered so many classic Hollywood films over the years. Working relationships with Laemmle and the American Cinematheque led to screenings at the Fine Arts, the Playhouse 7, and the Spielberg, respectively. It was at the latter cinema where we launched Projections: Los Angeles, a satellite edition of the New York Film Festival's Projections program (now called Currents) for experimental and artists's cinema and a collaboration we hoped to continue before Covid struck and before Netflix unceremoniously demolished the theater. Unassumingly tucked away off the main lobby of the Egyptian, the 80-odd seat Spielberg was a rare, institutionally-backed space that made room for the kind of adventurous outside programming that otherwise wouldn't be seen in such quality conditions.
One of the things that inspired Acropolis was the history of experimental film exhibition in Los Angeles itself 2, and in particular the early venues that valiantly showcased such esoteric fare, including the Coronet Theatre on La Cienega, the Cinema Theater on Western, and the Theatre Vanguard in West Hollywood. For me, photos of these bygone spaces made their histories and accomplishments feel tangible, if not exactly glamorous. Looking at images of some of the recently shuttered venues mentioned above, I'm reminded of their many quirks and limitations, some charming (the Film Center's makeshift couch seating and floor-to-ceiling selection of small-gauge film gadgets available to rent), others not-so-much (the Downtown Independent's perennially boarded up box office, inoperative toilets, and faulty lighting system; even the venue's ostensible perks, like its large rooftop, where late-night receptions were in constant threat of being shut down by police, had their own unique drawbacks.) Certain hallmarks, like the old fashioned wood seats and vintage '60s screen curtain at the Bing, or the Ahrya's iconic neon marquee, now seem like the kind of lovable relics we probably won't be seeing at any newly constructed cinema space going forward. (Of these theaters, the Ahrya is the only one that's still technically operational, though ever since it was vacated by Laemmle and taken over by Screening Services Group, a privately held company that operates a number of local screening rooms, it's become nothing more than a glorified special events space comparable to downtown's few sporadically occupied midcentury movie palaces.)
I'll miss all these theaters. Eventually, if not already, they'll exist only as photographs. But I'm also willing to admit and accept that things must evolve, and that the significance of these spaces is of only hyper-localized, in some cases even wholly niche, concern. As the quote at the top of this piece reminds us, Los Angeles—less city than ideal—breeds a certain nostalgia in its populace that's difficult to justify to anyone outside its far-flung borders. What's more concerning (and on this point I'm as guilty as anyone) is the concomitant sense of resignation, if not outright disregard, that tends to set in amongst locals when changes like this, especially within the arts sector, begin to pile up; indeed, other than a few stray tributes to the Bing, there was virtually no media coverage of any of these closures. Then again, in an era when even Los Angeles's paper of record can fail to run a single review of any of the week's new releases 3, how can we expect anything film-related to register in the wider community?
Despite all this, there's reason to be optimistic. Over this same two-year span, a number of new theaters have launched or reopened, namely the Academy Museum, the Los Feliz 3 (now under the umbrella of the American Cinematheque), the Lumiere Cinema at the Music Hall, and, perhaps most notably, 2220 Arts + Archives, a multidisciplinary arts space in MacArthur Park that's now home to a majority of the city's screening series, including Acropolis. On the horizon, too, is the return of a few familiar names: Vidiots at the former Eagle Theatre in Eagle Rock; the Arclight Hollywood and the adjacent Cinerama Dome under the name Cinerama Hollywood; and Now Instant Image Hall at a new venue in Highland Park. All positive developments, to be sure, but above all promising due to each of these organizations's unique programming remits—a key factor in serving a splintered audience whose moviegoing morale is at an all-time low. If, as it stands, I have more faith in the commitment of our curators than I do the devotion of the viewership, it's not without a certain hard-won acceptance of the marginal nature of our collective pursuit, and the small but rewarding experiences that we continue to bring to cinema spaces of all shapes and sizes. That said: take a picture, it'll last longer.
3 Laemmle, Greg. "L.A. Times Calendar Section: Bring Back Movie Reviews!" blog.laemmle.com, 20 June 2022, (Link).
Jordan Cronk is a film critic and founder of the Acropolis Cinema screening series in Los Angeles. His writing has appeared in Artforum, Cinema Scope, the Criterion Collection, frieze, the Los Angeles Review of Books, Sight & Sound, and other publications. He is a member of the Los Angeles Film Critics Association.