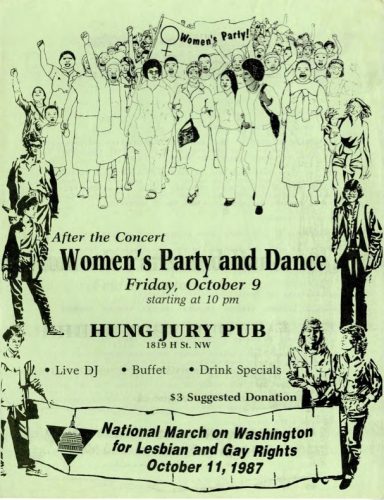 The Washington, D.C. dyke bar where I was a habitué from roughly 1992 to 1995 had a most incongruous name: the Hung Jury. The club was located in the city's central business district. Apparently, during the workweek, it served as a lunch spot for white-collar professionals, a cohort that would have included the seemingly billions of lawyers who practiced in the capital. Perhaps this particular clientele explained the establishment's moniker.
On Friday and Saturday nights, though, the Hung Jury was thronged with lezzes. To enter the club, you had to walk down an alley and present your ID to an unsmiling, no-nonsense, wiry, middle-aged butch (I can recall no other sentry besides this stern woman). My memory of the décor inside remains hazy, though I do recollect a framed poster or print, in the style of Patrick Nagel, of "Vogue"-era Madonna. What I will always remember is what I heard: house anthems like "Follow Me" by Aly-Us, "Percolator" by Cajmere, "Show Me Love" by Robin S. Newly out, just learning to be comfortable in my body, I danced for hours—hesitantly at first, then more confidently—surrounded by sapphic gyrators of all different races, ages, sizes. The Hung Jury closed circa 2012, just one of scores of nightspots catering to queer women that have shuttered in the past decade or so, an exemplar of a social space now perilously close to extinction.
Image: The 1987 March On Washington For Lesbian Gay Rights, Flier "After the Concert, Women's Party and Dance"," Queer Omaha Archives | UNO Libraries, accessed July 20, 2022, Source.
Melissa Anderson is the film editor of 4Columns. Her book on David Lynch's Inland Empire was published by Fireflies Press as part of its Decadent Editions series.