My long dead mother's cake topper collection.
cake topper:
A decoration of figures, flowers, lettering, etc., for the top of a cake, typically designed to be a flamboyant or expressive feature for use at a celebration.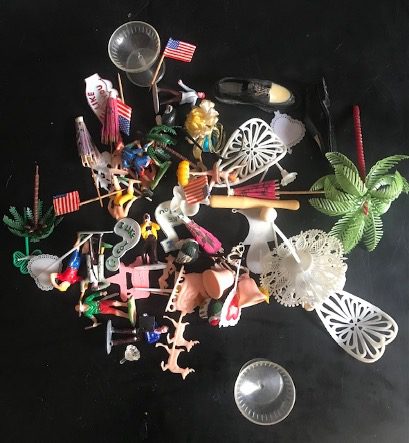 "… because truly being here is so much;
… because everything here
apparently needs us, this fleeting world, which in some strange way
keeps calling to us. Us, the most fleeting of all."
"… how happy a Thing can be, how innocent and ours,
how even lamenting grief purely decides to take form,
serves as a Thing, or dies into a Thing—"
"Look, I am living. On what? Neither childhood nor future grows any smaller… Superabundant being
wells up in my heart."
Quotes from Rainer Maria Rilke's "The Ninth Duino Elegy" — Stephen Mitchell translation.
Amy Gerstler is an American poet. Her most recent book is Index of Women, published in 2021 by Penguin. In 2019, she received a Foundation for Contemporary Arts Grant. In 2018, she was awarded a Guggenheim Fellowship. Scattered at Sea, a book of her poems published by Penguin in 2015 was longlisted for the National Book Award, shortlisted for the Kingsley Tufts Award, and was a finalist for the PEN USA Literary Award. Her book Dearest Creature (Penguin, 2009) was named a New York Times Notable Book, and was short listed for the Los Angeles Times Book Prize in Poetry. Her previous books include Ghost Girl, Medicine, Crown of Weeds, which won a California Book Award, Nerve Storm, and Bitter Angel, which won a National Book Critics Circle Award. Her work has appeared in a variety of magazines and anthologies, including The New Yorker, Paris Review, American Poetry Review, Poetry, several volumes of Best American Poetry and The Norton Anthology of Postmodern American Poetry.