I have a box of letters, a box of photos, a box of dance DVDs, a file box, a box of journals, two boxes of performance programs. And then I have this box. I came across it, unlabeled, while reorganizing my office over the summer, an every-few-years kind of task.
At first, I couldn't tell what distinguished this container, a shoebox half-full of dance-related items, from the rest. Why did these materials merit their own storage space? As I examined them one by one, I began to suspect I had set them aside because I didn't want them to get lost in any other box. Most of them had some relationship to my work, as a dancer and dance writer, and they all carried a little extra charge of personal meaning: ticket stubs from especially moving performances; the badge I wore to get backstage when I toured with Riverdance; my student registration card from the old Merce Cunningham studio, where I would attend the 6pm class after my day job at Dance Magazine. To save my future self from the same confusion, I took a Sharpie and gave the box a name: Dance Past Special.
The box contains mostly ephemera from shows I danced in or shows I've seen, plus a few other artifacts. They don't correspond to transcendent moments (though there are a few of those) so much as gentle turning points in my life, some of which I wouldn't see clearly until years later. Sifting through them floods my mind with stories, memories, associations, many long-dormant. I could delve into those here. I could reflect on the evanescence of live performance and these keepsakes as a small rejoinder. But what came over me as I held them in my hands, in the face of so much feeling, was a desire to simply catalogue, to list.
To that end, what follows is an inventory of what's in the box (including a few things I added in this summer's cleaning frenzy), roughly in order of when each item came into my life. I tried to name and date them without description, but I added a few additional details about the item itself or the circumstances of its acquisition, where I felt so moved.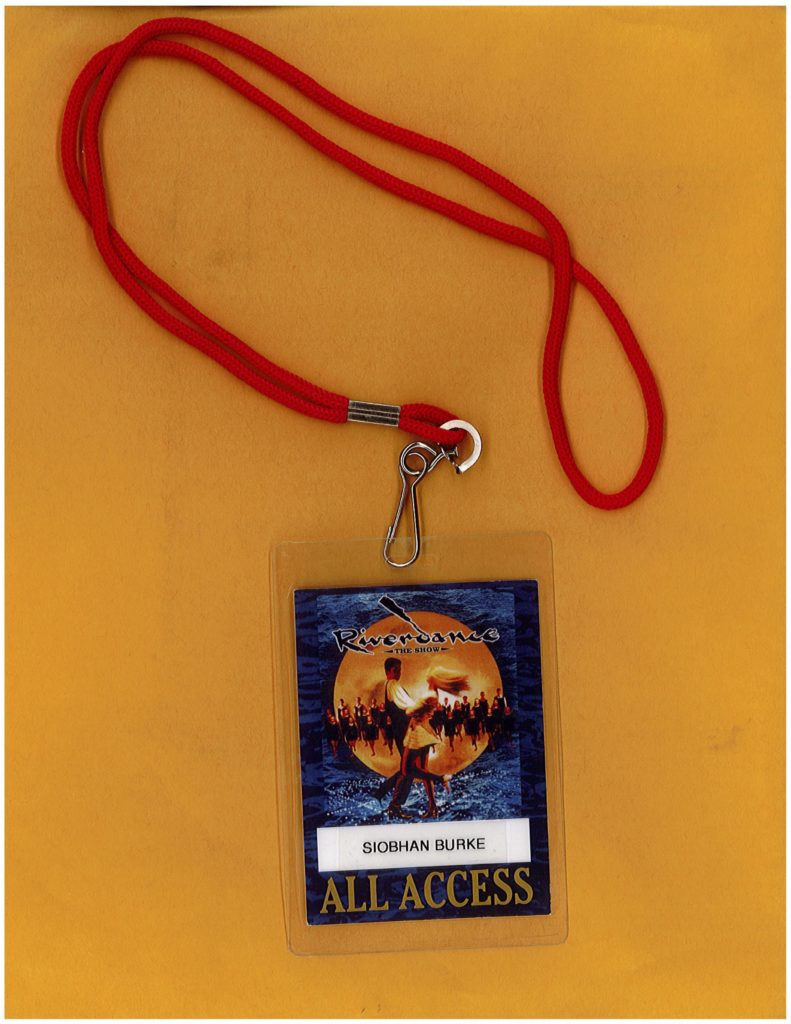 Dance Past Special: An Inventory
Riverdance audition call sheet; April 4, 2005.
Riverdance "All Access" laminated badge with lanyard; likely acquired Sept. 2005.
Promotional postcard for Dance New Amsterdam open house; Feb. 8, 2006.
Program for "Barnard Dances at Miller," featuring works by Seán Curran, Adam Hougland, Keely Garfield, Colleen Thomas; March 30-April 1, 2006. (I saw this as a college sophomore and said: I'm going to dance in that next year. And I did.)
Program for "Youth Movement: A Night of Dance and Inspiration at The Paramount," directed by Barbara Sarbin (my aunt); Monday, April 19, 2006.
Program for "La Boule Blanche: In Celebration of KAISO! Writings by and about Katherine Dunham" at the Riverside Theatre; Monday, May 1, 2006.
Jacob's Pillow collector card: Merce Cunningham; dated 1997; likely acquired summer 2006.
Postcard with color photograph of the Ted Shawn Theatre at Jacob's Pillow; photo by Stephan Driscoll, 1983; likely acquired summer 2006.
Program for "Dark Dining: Sensory Feasts Served to Blindfolded Guests" at Galapagos Art Space, directed by Dana Salisbury; Oct. 29, 2006.
Promotional postcard for "The Barnard Project at Dance Theater Workshop," with works by Gabri Christa, Jeanine Durning, David Neumann, Reggie Wilson; Dec. 7-9, 2006.
Program for "Barnard Dances at Miller: Tharp/Sugar Salon/Gwirtzman"; April 20-21, 2007.
Program for Riverdance at the Mullins Center, UMass Amherst; May 21-23, 2007.
Index card that I filled out for Dance Criticism, a course with Mindy Aloff, detailing my dance experience and background in viewing dance; undated, likely Sept. 2007.
Pamphlet for the Chocolate Factory's fall 2007 season. (I reviewed Tere O'Connor's Rammed Earth for my college newspaper.)
Promotional postcard for "The Barnard Project at Dance Theater Workshop," with works by Gerald Casel, Amanda Loulaki, RoseAnne Spradlin, Keith Thompson; Dec. 6-8, 2007.
Business card for Jennifer Lerner: Public Relations & Special Events; likely acquired Jan-Feb. 2008.
Two copies of a letter, hand-written in all caps, from an avid Dance Magazine reader, thanking the publication for the article "Rhythmic Women Unite: A Report from the Women in Tap Conference" by Jane Goldberg; dated June 2, 2008. (As I recall this reader sent frequent mail that we editors found a little creepy.)
Promotional postcard for Darrah Carr Dance, "ModERIN" at Irish Arts Center; Oct. 23-26, 2008.
Photocopy of a review from SoHo Weekly News titled "Followable Dancing," on Mary Overlie and David Gordon, by Wendy Perron; Wendy's handwriting in the margin dates it 3/4/76; likely acquired between 2008 and 2013.
Pencil drawing on 8×11 printer paper, by me, of three of my Dance Magazine colleagues (all my supervisors); likely made between 2008 and 2013.
Hand-drawn flyer for In My Bedroom, a site-specific dance by Annie Malcolm and dancers; Friday, Aug. 7, 2009.
Large pastel drawing and notes, by me, from a workshop with Anna Halprin at Judson Memorial Church; undated, likely March 2010.
Merce Cunningham Studio registration card; dated July 22, 2010 (though I could have sworn I took my first class there in Feb. 2010).
Two promotional postcards for Hadley Smith's The Slow Build at LaunchPad, describing the show as "a dance cycle exploring shared solitude, repetition, duration, tension and the release of the private into the public"; Dec. 18, 2010.
Yackez playing cards, full set (Trashley, Coach, Baby Man, Black Shadow, Yackez, Twitta, and Papi Jon); undated, likely acquired early- to mid-2010s.
"Questions to Ask Yourself Before You Start to Write About a Performance," compiled for the Dance Critics Association by Deborah Jowitt, Marcia Siegel, and Elizabeth Zimmer; 2003, likely acquired 2011.
Ticket for Sarah Michelson, Devotion at The Kitchen; Saturday, Jan. 15, 2011.
Promotional postcard for Narcissister, This Masquerade; Feb. 11-19, 2011.
Ticket for E-Moves 12 at Harlem Stage; Friday, April 8, 2011 (the night of an important conversation with a mentor).
Wallet-sized promotional card for "Hard to Love" at Bar 82 in the East Village, hosted by Jillian Sweeney; Monday, May 16, 2011.
Two promotional postcards for this year's collective, "new and reassembled work by Emily Bock, Hadley Smith & Tara Aisha Willis"; Nov. 4-5, 2011.
Promotional postcard for The Paper Industry's Apologies (and other grey areas) at Incubator Arts Project; Dec. 1-17, 2011.
Two tickets for Merce Cunningham Dance Company at the Park Avenue Armory; Friday, Dec. 30 and Saturday, Dec. 31, 2011. (I went twice.)
Jill Sigman/thinkdance bookmark; likely acquired circa 2012. (Jill's MySpace link is listed on the back.)
Promotional postcard for "The Nostalgia of Vigorous Dancing" at Dixon Place, featuring works by Jen McGinn and Rebecca Warner; Feb. 22-23, 2013.
Three wallet-sized promotional cards for Jillian Sweeney's Vulture-Wally at Incubator Arts Project, May 31-June 9, 2013.
Program for Jillian Sweeney's Vulture-Wally at Incubator Arts Project; May 31-June 9, 2013.
Program for "Emergency Glitter" at Abrons Arts Center, with works by Rebecca Warner and Burr Johnson; July 24-27, 2013.
Wayne McGregor's business card; likely acquired Nov. 2013.
Two programs for "Show & Tell: Work in progress showings from choreographers Melinda Ring and RoseAnne Spradlin" at Abrons Arts Center; Sunday, Jan. 12, 2014.
Program for Sarah Michelson's 4 at the Whitney; Jan. 24-Feb. 2, 2014.
Program for "Dance Criticism in New York" panel at Gibney; May 12, 2015.
Program for Yvonne Rainer's The Concept of Dust, or How do you look when there's nothing left to move? at MoMA; June 9-14, 2015.
Ticket for Ralph Lemon's Scaffold Room at the Kitchen; Monday, Nov. 9, 2015.
Promotional postcard for Eiko Otake and William Johnston's A Body in Fukushima; likely acquired 2015-16.
Four postcards with color photographs of Eiko Otake by William Johnston; likely acquired 2016.
Promotional postcard for Big Dance: Short Form at the Kitchen; Jan. 6-16, 2016.
Ticket for Blood Orange at Terminal 5; Saturday, Oct. 1, 2016.
Ticket and playbill for Hamilton at Richard Rodgers Theatre; Wednesday, Oct. 26, 2016.
Program for "Working in Process/New Bodies" by Jodi Melnick at Works & Process at the Guggenheim; Nov. 13-14, 2016.
Program for Solange Knowles, An Ode To at the Guggenheim; Thursday, May 18, 2017.
Program for "Radical Bodies: Dances by Anna Halprin, Simone Forti, Yvonne Rainer & José Limón" at the Kaye Playhouse at Hunter College; May 31, 2017.
Program for Slow Dancing/Trio A by David Michalek in collaboration with Yvonne Rainer, presented by Danspace Project at St. Mark's Church; June 23-July 1, 2017.
Ticket for Beth Gill, Brand New Sidewalk at Abrons Arts Center; Thursday, Sept. 28, 2017.
Postcard for "Penny's from Heaven" (my mom's retirement party) at 33 Hawley Street, Northampton, MA; April 5, 2019.
Program for Ronald K. Brown/Evidence at the Joyce Theater (High Life, Mercy, Grace); Feb. 25-March 1, 2020.
Companion publication for "This is No Substitute for a Dance: Dance and Process 2020-2021" at Queenslab; April 19-May 20, 2021.
Program for Rachel Comey 20th Anniversary Show at The Gallery at Spring Studios, directed by Beth Gill; Sept. 11, 2021.
Program for Sarah Michelson at David Zwirner (hand-drawn in Sharpie on printer paper); Oct. 9, 2021.
Two tickets for "Twyla Now" at City Center; Wednesday, Nov. 17, 2021.
Ticket for Sara Mearns at the Joyce Theater; Tuesday, March 8, 2022.
Program for "A Gathering to Honor June Finch" at 100 Grand; May 15, 2022.
Program for LaTasha Barnes Presents The Jazz Continuum at the Joyce Theater; Oct. 11-16, 2022.
Program for Twyla Tharp's In the Upper Room and Nine Sinatra Songs at City Center; Oct. 19-23, 2022. (Had excruciating lower back pain on this night and managed to write a review that was better than many I've written in no pain at all.)
Program for Evelyn Brown (A Diary) at LaMaMa, conceived and originally directed by María Irene Fornés, directed by Alice Reagan; May 19-June 4 2023.
Bookmark given to me by Wendy Perron with photo of an unidentified dancer walking blindfolded up a staircase, into the camera; undated.
Siobhan Burke is a writer living in New York City. Since 2013 she has been a dance critic for the New York Times and a contributing writer for Dance Magazine. She has written for Artforum, The Brooklyn Rail, Critical Correspondence, Cultured, Harper's Bazaar, Pointe, Open Space, The Village Voice, and other publications.