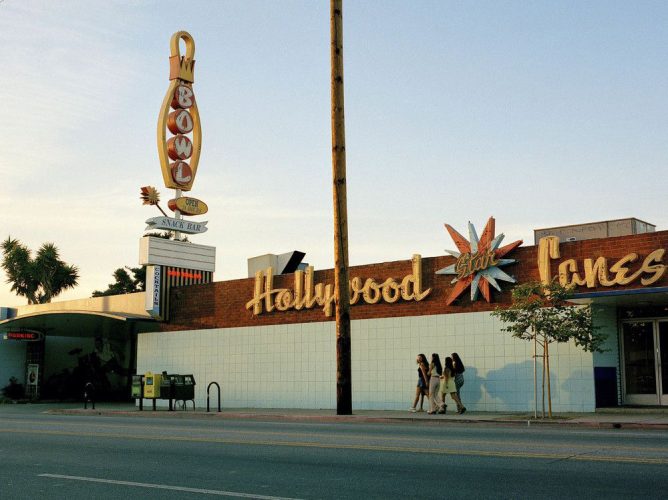 I can't remember who first took me to Hollywood Star Lanes on Santa Monica Boulevard near the 101 freeway. By the time I started going, the 'B' in the neon bowling pin that sprouted from top of the building had burnt out, so the sign just read 'OWL' which always struck me as a poetic landmark. I can see myself there in a red chiffon gown with pink lining and a fake leopard coat. I thought the red stripes on the bowling shoes looked good with the outfit. (Later I stole a pair.) I'm sure I wore the dress the time I came as a freshman in high school with my boyfriend and his intimidatingly sophisticated cousin—a film director in her twenties—and her husband, who must have driven us. I remember admitting to my boyfriend I was really embarrassed to be bowling in front of them with such poor skills, and him telling me it was okay—cute even. I then resorted to stunts, like kneeling on the ground and rolling the ball slowly down the lane, because I couldn't do better had I actually been trying for a strike.
I never improved as a bowler, though I visited Hollywood Star Lanes many times with assorted company all throughout high school. I have another memory of sitting in my friend Alex's black T-Bird in the parking lot, probably hotboxing it, and him announcing "it's going to be really weird when Jack Nicholson dies one day." It was a non-sequitur; I thought he was just being pretentious, trying to say something purposely random. But now the thought seems at least a little prescient—recognition that eventually we'd get older and the cultural firmament would fissure. I'm surprised he had any idea.
Despite all the time I spent there, I remember little of the bowling alley's interior. From a Reddit thread on its closure—it was seized by the LAUSD in 2002 in a case of eminent domain and later turned into an elementary school—I see that each lane was crowned by LSD-tinged graphics of hot air balloons, of which I have no memory. On other sites, posts as recently as 2019 lament the loss of Hollywood Star Lanes as LA's last remaining 24-hour bowling alley. There are nostalgic testimonies about being able to drink there underage, or bowl there late at night in order to sober up before driving home. In a newspaper article on the closing, it appears, perhaps strangely now, that a number of the waitresses were European immigrants. One of them named Ziggy, from Hamburg, organized a petition to try and stop the LAUSD from seizing the property, but the matter was contentious—it was hard to argue, especially when the district was so overcrowded, with building more schools.
For all the people who still miss it, I wonder if being able to return to Hollywood Star Lanes via the film The Big Lebowski, in which it serves as a location, is much consolation. I myself once rewound a five second sequence of Allison Anders's Mi Vida Loca about a thousand times only to see what a block of Sunset Boulevard, near Alvarado, had looked like a decade earlier. I long to revisit the pleasantly lascivious and seedy quality I remember Santa Monica Boulevard having during that time and feel some relief that I am able to watch interviews Vaginal Davis filmed on the street or rent Bruce La Bruce's Hustler White or look at Eve Fowler's photographs of men she met working the strip. These things give me the sense that some reclamation is possible—not too much, but some.
Still, I can't really drive the eastern portion of the boulevard without having anxiety about how much it's changed or how much more it will. In the past, the same drive, starting from the opposite direction, was an artery for nightlife, delivering me at, or close to, Natural Fudge Cafe, Arena, No Life Records, the Parlour Club, a late night coffee shop like Silver Spoon, or the supremely gay French Marketplace where they had Judy Garland's red slippers on display in a glass case. Some places I went to, others I just fantasized about. I remember a kind of glimmering quality to a few of the buildings in the darkness, an almost erotic charge that transcended the actual space—possibly just a dingy storefront. I wouldn't know how to really describe it more than that; an inchoate sensation simply etched itself on my mind in the moment and never let go.
More than the places, it's this perspective I wish I could somehow regain; the different sense of scale, or impressionability, or time, that made me think, for instance, the relationship with the boyfriend who I bowled with in the red dress had taken place over many months when an old diary reveals it lasted just one. I recently reread this diary, and in two back to back entries I proclaim my elation at being with him and in the next I'm writing bluntly, almost comically, exactly a month later, that we're over. Clearly the thing itself is not usually the thing remembered, though once something is gone completely it becomes harder to know. After the building was demolished, the 'OWL' sign I remember so fondly from Hollywood Star Lanes was donated to another bowling alley, but instead of displaying it, they just threw it away.
Kate Wolf is a writer and critic based in Los Angeles. Her work has appeared in publications such as Art In America, The Nation, Frieze, and The Los Angeles Review of Books, where she is a founding editor, and currently editor at large and cohost and producer of its weekly podcast.