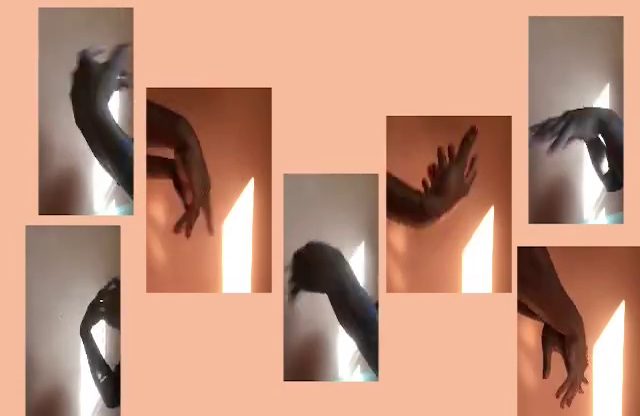 Transmission from this Point on the Fractal
It is a dance that calls the spirit and houses it in an image rather than letting it burn up and vanish.1
Between December 2020 and August 2021, I created three pieces that still matter to me. The Nutcracker (from memory) made good on a lifelong joke; I sang the entire score to Tchaikovsky's ballet by myself, acapella, on a Christmas Day livestream. loam was a multimedia poem that reflected on my fledgling qigong practice through movement, text, sound design, and video editing. from inside the house was a trio that sourced classic horror films in an attempt to "do" possession in performance.
These works lead dodgy documentary lives. loam is a video, but I never really told anyone I made it. The Nutcracker (from memory) is not easily excerpted or scrubbed through. The only video of from inside the house was captured via Instagram Live. I've not yet added information about these works to my website. Admittedly, that's one reason I'm writing about them now, as a group. They feel of a piece, mostly in ways that support my not having stewarded their afterlives "well enough" (whatever that means). Rather than take this as a lack or failure, I give it space to simmer. I can place objects and words around these works, summoning them together with a gesture. I can give them new life in the form of a story. I can say: What binds these works, beyond some vague and wistful notion of ephemerality, is their investment in channeling. They exist less for holding, more for passing-through.
A good story points to something beyond itself. It's true that COVID-19 catalyzed a new phase in my practice. Calling the virus, its very name, to mind and body, I feel how it casts a shadow. Part of me rolls its eyes. This part of me knows how, in this moment, the pandemic is something to be gotten over. I, for one, have felt pressured to move on, as I sense the spacetime of my L.A. experience grow thick again—thick with voices, thick with traffic, thick with smog. Art is a mirror, they say, or a bellwether; and as with the pieces I saw at the end of 2019 where people donned surgical masks, not knowing what they were conjuring, I have witnessed so many performers rush to fill our surrounds before anyone else could. They had to, they said, it kept us together.
I have long experienced movement as an unrelenting pressure to assert myself constantly into the third dimension. Sitting at home, I realized just how much that effort had worn on me. Dance will cease to be unless you keep doing it! Same for my gender. Same for my relationships. Same for my ideas. I lay on my bed and saw the sky clearer than I ever had here, flocks of birds swooping in combinations I had never spotted, pigeons and parrots and seagulls all at once. What I was doing, as a dancer or as any other kind of being, it had to come out in other ways. And it needed permission to gather and then dissolve, like smoke.
Early in the pandemic, I saw someone on social media describe dance as "a homeless art form". While people lost actual homes and jobs and hopes of recovering either, I noticed some folks mourn the brief closure of their high temples. The spirit, temporarily unsheltered, was hustled into makeshift shrines to preserve its power. It was because we artists (so it went) needed solidity, not just to pay the bills, but because we were "essential workers". Craftspeople of the nature of things! We made the invisible visible, we were the keepers of truth. And what is truth if it has no place to sit, stone on stone?
Channeling, a trusted means of sourcing truth in many contexts, does more unsettling than settling. Oracles often puzzle their querents. They morph into trance states, scattered bones, tea leaves, tongues of fire. I first felt my heart turn firmly toward dance when I recognized its kinship with poetry: a need to be fully felt as a vibration—not just seen, thought-at, under-stood. And so, this most oracular of forms, must it be "housed" to move as it may? When I began this writing, I framed it as an evaluation of a new stage in my practice. Thankfully, I caught myself; I heard the prayer for solidity. So, instead of binding myself to what I'd already decided I wanted, I returned to practice. I sought the spirit through divination.
With the guidance of great teachers, I am learning that divination is just an attunement to patterns. There is an understanding that what happens within the space of divination will not last. It's not meant to; divination is a space for gathering patterns, is part of the larger set of patterns called life. It offers something present, yet not fixed—something emergent, yet not wholly elusive. It does not lodge itself in(to) anything. It subsists in our attention to and through spacetime. It does not disappear, it transforms. Even if captured in signs, the omen itself does not exist literally, that is, as words, as an enshrinement of living force. This tricky thing thrives on something quite other than "absence and presence". It is vexingly multiple and does not need a home because it is itself what home is, which is to say, it is the practice of connecting.
Like any divination, the specifics of this story will one day fade from immediacy. Yet the moving truth can still erupt into your present context, given a sound and willing channel. If these words bear any meaning in the future, it will be because what is, on this plane, has not always been and will not always be. Thank god/s! As the world rewilds (by force or otherwise), remaking its connections, will we practice finding our paths through the pattern? I hope so. This is why I make things how I do. And yet, the pattern changes even now…
Let this be something other than a document. Let this be a testament to force once made manifest.
1 Hexagram 62: Xiao Guo (Small Traverses/Flying Bird), in Julie Chase-Daniel and Stephen Karcher, I Ching: Mothering Change
Header image: Video still from loom (2021) by Ajani Brannum, courtesy of the artist.
Ajani Brannum is a movement artist hailing from Anchorage, Alaska and currently living in Los Angeles. They investigate practices for moving, thinking, and being, asking how our tools for doing-self might venture beyond, between, or beneath received categories of personhood. Ajani's latest long-term endeavor is Talent Agency, which uses conversation, embodiment practices, and divination to help people reckon with the spirit of their personal and/or creative projects.