Planet of Toys was a band founded by the author Jack Skelley and the late poet and transgressive performance artist Bob Flanagan. The track "Fun to Be Dead," featured here, is from a never-released album. The demo has languished on an old cassette tape since the 1980s until recently being digitized. Skelley and Flanagan co-wrote all the songs (except for one, "Majestic Pontiac," written by Rick Lawndale).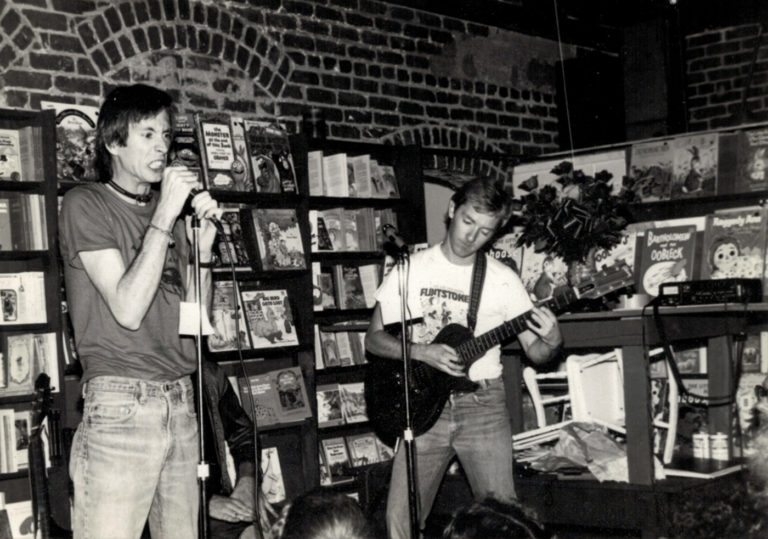 Planet of Toys performed at punk rock venues (Al's Bar, Anti-Club), bookstores, arts centers, and broadcasted live sets on radio stations such as KPFK.
"Fun to be Dead" also provides the title for the forthcoming collection: Fun to Be Dead: The Poetry of Bob Flanagan, to be published this fall by Kristina Kite Gallery and Peptalk. The collection is edited by Sabrina Tarasoff with an introduction by Skelley. Flanagan can also be found throughout Skelley's book The Complete Fear of Kathy Acker, published by Semiotext(e). Written largely between 1984-1985, but never published in its entirety until 2023, the experimental novel is set within the unique scene of artists and writers that flourished around the literary/arts center Beyond Baroque in Los Angeles.
Header Image: Planet of Toys flyer featuring members (L-R) Molly Ruttan, Gary Guthrie, Linda Ruttan, Bob Flanagan, Jack Skelley, and Rick Lawndale.
Jack Skelley is the author of the books Monsters (Little Caesar Press), Dennis Wilson and Charlie Manson (Fred & Barney Press), Interstellar Theme Park (BlazeVOX), and The Complete Fear of Kathy Acker (Semiotext(e)). Skelley's work has been largely anthologized and featured in The Atlantic, Salon, Los Angeles Times, Los Angeles Review of Books, and elsewhere. He is the songwriter and guitarist for psychedelic surf band Lawndale (SST Records).